Jeff Warschauer
Cantor, Musician, and Educator
Welcome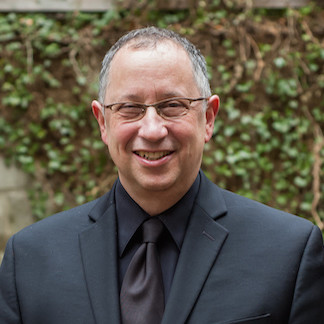 Jeff Warschauer is a cantor, educator and highly accomplished musician with a sweet, soulful voice and a friendly, engaging presence.
Jeff leads exciting participatory services with a creative mix of contemporary and traditional melodies. He teaches kids and adults about all facets of Jewish music, prayer and Torah reading.
He leads multigenerational choruses and instrumental ensembles that enliven synagogue events, draw in potential new members and strengthen bonds among the membership and with the community at large.
Audio and Video Clips
Video
The Strauss/Warschauer Duo live in Poland at the Krakow Jewish Culture Festival, 2014. Deborah Strauss and Jeff Warschauer perform Rejoicing.
"Yesterday is gone, tomorrow isn't here yet, all we have is today, so why ruin it by worrying?"
Video courtesy of the Krakow Jewish Culture Festival and TVP2.
The Strauss/Warschauer Duo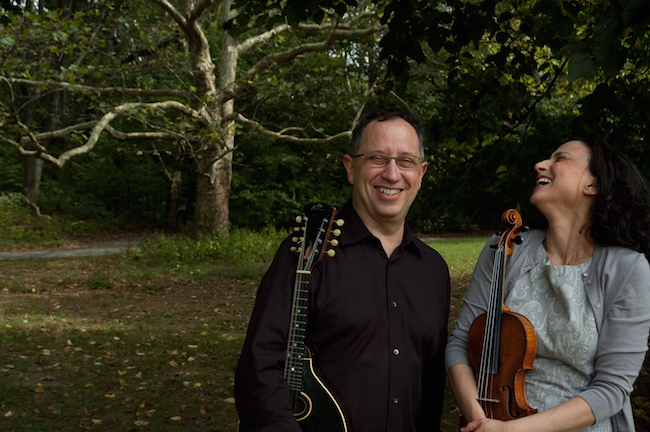 For over 25 years, Deborah Strauss and Jeff Warschauer have been at the forefront of the international klezmer and Yiddish music scene. They are renowned worldwide for their depth of experience and knowledge, and for their innovative performances, residencies and workshops. But above all, they are beloved as individuals and as a couple for their ability to inspire and empower people of every age, background and ability.
Learn more about the duo at www.klezmerduo.com…
Biography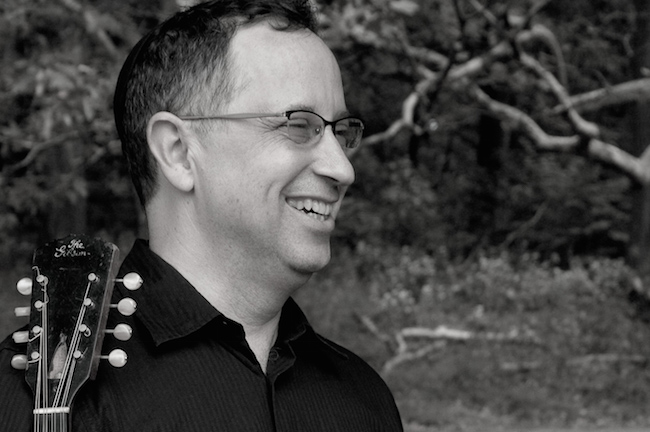 Cantor Jeff Warschauer graduated in May 2015 from the H.L. Miller Cantorial School at the Jewish Theological Seminary. Jeff serves as Cantor at Congregation Keneseth Israel in Allentown, PA. He has also served congregations in Bath and Portland, ME, New London, CT, Youngstown, OH, Manchester, VT, Massapequa, NY and Brooklyn, NY.
In the Yiddish and klezmer scene, Jeff is internationally renowned as a mandolinist, guitarist, singer and teacher. He is on the faculty of Columbia University, and is a Founding Artistic Director and Senior Artistic Advisor of the KlezKanada Institute for Yiddish/Jewish Culture. One half of the Strauss/Warschauer Duo, Jeff was a long-time member of the Klezmer Conservatory Band.
Jeff speaks Yiddish, and has researched and collected Yiddish and Hebrew songs and instrumental melodies since the mid-1980s. He is a graduate of the New England Conservatory of Music, and has studied Jewish culture, languages, and religion at the Conservative Yeshiva, Oxford University, Columbia University, the University of Haifa and Tufts University. He has received numerous awards in Music, Community Activities, Judaica and Musicology, as well as the Amalgamated Bank Prize in Yiddish, a Massachusetts Folk Arts Fellowship, and the KlezKanada Distinguished Service Award.
Resume
EDUCATION
Jewish Theological Seminary, New York, NY
Masters in Sacred Music and Cantorial Investiture, 2015
New England Conservatory, Boston, MA
Bachelor of Music
Hebrew Studies at the Conservative Yeshiva Summer Program, the University of Haifa Summer Ulpan (Israel), and at JTS.
Yiddish Studies at Tufts University, Oxford Summer Programme in Yiddish and the Columbia/YIVO Summer Program (Advanced Level)
EXPERIENCE
CANTOR, CANTORIAL SOLOIST, AND SYNAGOGUE MUSICIAN
Cantor at Congregation Keneseth Israel, Allentown, PA, July 2017 to present
Cantor at Temple Sinai, Massapequa, NY, October 2015 to June 2017
Cantor-in-Residence at Israel Center of Manchester, Vermont, May 2016 to June 2017
Student Cantor at Temple Beth El, Portland, ME, October 2014 to June 2015
Student Cantor at Congregation Beth El, New London, CT, October 2013 to June 2014
Cantorial Intern at Park Slope Jewish Center, Brooklyn, NY, September 2011 to May 2012
In six years of Shabbat and holiday positions has functioned as clergy in a wide range of skill areas: leading services, leyning, acting as gabbai, delivering divrei-Torah, introducing new, participatory repertoire in a wide range of styles, designing and teaching special classes and highly participatory vocal and instrumental ensembles for all ages, creating holiday programs for the entire community, pastoral visits and serving as a member of a bet-din in conversion ceremonies.
High Holiday Spiritual Leader (Kol Bo) and Cantor, Beth Israel Congregation, Bath, ME, 2015
Along with co-leader Deborah Strauss, filled all clergy roles, including leading or overseeing all services, reading Torah and Haftarah, and delivering sermons.
Cantor for High Holidays, Temple El Emeth, Youngstown, OH, 2012 to 2014
Co-leader, Vocal and Instrumental Soloist, Family Services at Congregation Beth Elohim, Brooklyn, NY, 2004 to 2011
In ten years of High Holiday experience created (with rabbis) participatory services and special events. Led (with rabbis) evening, Torah and Musaf services on Rosh Hashana, plus Kol Nidre/Maariv, Torah, Yizkor, Musaf and Neila services on Yom Kippur. Also co-led, with Deborah Strauss, family services and special musical programming for Slichot.
Guest Cantor, Artist-in-Residence, Synagogue Music Director, Music Educator, Vocalist and Instrumentalist, 1986 to present
In collaboration with Deborah Strauss, leads services and artist residencies throughout North America and Europe. Serves as guest cantor, band and choir leader, arranger, composer, and vocal and instrumental soloist. Works with congregational singers and instrumentalists on new,innovative repertoire for services, and teaches classes for all ages on synagogue chant and song, klezmer music, Yiddish song and Yiddish dance.
EDUCATOR AND ARTISTIC DIRECTOR
Hewlett-East Rockaway Jewish Center Hebrew School, East Rockaway, NY
Classroom Teacher for 5th and 6th grades, 2015 to 2016
Taught all subject areas, including prayer, trope, music, holidays and the Torah portion of the week.
KlezKanada Institute for Jewish/Yiddish Arts and Culture, Montreal and Lantier, Quebec, Canada
Coordinator, Program Director, Co-Artistic Director and Sole Artistic Director, 1996 to 2009
Created ground-breaking initiatives, led and/or oversaw all programming of a major, internationally-acclaimed Yiddish and Jewish arts and culture festival. In collaboration with a world-class team of artists and scholars, produced concerts, hands-on workshops and lectures on multiple aspects of Jewish, especially Ashkenazic, arts, culture and academic inquiry. Collaborated with and reported to Board on all aspects of summer and year-round programming. Moved to an advisory role in 2009 in order to pursue full-time graduate studies. Currently Senior Artistic Advisor and Founding Artistic Director.
Columbia University, Associate in Music (Faculty Coach of the Columbia Klezmer Band), 2002 to present
As instructor and coach of the ensemble (a for-credit course) has overall responsibility for the group. Mentors the student leader, leads the audition process, coaches all aspects of instrumental and vocal performance, provides arrangement ideas, supplies audio and printed resources, evaluates student participation and supervises the organization of two concerts per year.
Freelance Jewish Music Educator, 1986 to present
Designs and teaches classes in cantorial modality and improvisation, Yiddish song, Hasidic melodies and klezmer music throughout North America and Europe, including at the Jewish Culture Festival in Cracow, the Oxford Yiddish Summer Programme, KlezFest London, KlezKanada, KlezKamp, Yiddish Summer Weimar, and the Workmen's Circle.
PERFORMER, MUSICAL DIRECTOR, AND COMPOSER
The Klezmer Conservatory Band, 1990 to 2003
Featured as instrumentalist and singer throughout North America, Europe, Australia and New Zealand and on multiple recordings. Featured in concerts, recordings and film with Itzhak Perlman and Joel Grey.
The Strauss/Warschauer Duo, 1995 to present
Performs and teaches throughout North America, Eastern and Western Europe, including the Philadelphia Folk Festival, the Jewish Culture Festival in Cracow, The Folksbiene Yiddish Theater, KlezFest St. Petersburg (Russia). Featured in performances with legendary actor and singer Theodore Bikel.
Freelance Theater Music Director and Composer, 1986 to 1996
The American Jewish Theater (New York City) and the Jewish Theater of New England (numerous productions).
Recordings
Featured on CDs with Itzhak Perlman, The Klezmer Conservatory Band, The Strauss/Warschauer Duo, and a solo klezmer guitar and mandolin CD, among many others.
Ethnographic Fieldwork, 1986 to present
Collects Yiddish songs and klezmer instrumental music from older Yiddish-speaking singers and instrumentalists in North America, Eastern and Western Europe and Israel.
AWARDS
Kogen Community Activities Award (JTS) 2014, Cantors Assembly Prize (JTS) 2013, Prize for Excellence in a Musicological Project (JTS) 2012, Field Prize in Music (JTS) 2011, KlezKanada Distinguished Service Award 2009, Massachusetts Folk Arts Fellowship 1990, Amalgamated Bank Prize in Yiddish 1986
COMMUNITY SERVICE
Member of the National Executive Board of the Workmen's Circle/Arbeter Ring, 2004 to 2007
Member of  Board of the JCC of the Lehigh Valley, 2017 to present
LANGUAGES
Yiddish (fluent), Hebrew, some French and German
Rabbi Carolyn Braun Writes About Cantor Jeff Warschauer
I am delighted to write this letter of reference for Cantor Jeff Warschauer.
First, some background.  We are a congregation of approximately 300 families in Southern Maine.  Like many congregations, we do not have the financial ability to support both a rabbi and a cantor; but we love music, lay participation and team work. In 2014, I created an internship program that would enable us to hire a cantorial or rabbinical student in their last year.  Jeff was the best candidate by far and we offered him a position.  His task was to come 18 times from October to May, to help build community, to bring innovation into our services, to teach, to participate in any lifecycle events that occurred on his visits, to learn aspects of the Cantorate that were not covered in cantorial school, and to be a team member of our staff.
Jeff met and exceeded our expectations.  His warmth, excitement, talent and passion had a positive impact on people of all ages. Our older members, in particular, enjoyed speaking Yiddish with him and loved his easy and inclusive, welcoming nature.  Kids and families were attracted and responsive to this funny, sensitive and talented cantor.
It is not easy to come into a community such as ours and make an impression on such a diverse group of people.  Yet Jeff has mastered the art of bringing people of all ages, religions, levels of observance and levels of musical knowledge, together to learn, to pray and to make music.  On Sundays, after Hebrew School, he would lead a "Jewish Music Jam."  Among the 25 – 40 people participating, there were infants crawling on the floor, their slightly older siblings keeping time on sticks and drums, professional level musicians playing their instruments, and middle school and high school students playing their violins, flutes, clarinets and trumpets.  Also in the circle were singers – some who could hold a note and others who could not.  Jeff arranged the music so that all his musicians could succeed and after a couple of false starts, the room exploded with really beautiful sounds.

I especially remember the 94-year-old woman who would push her walker across the street to the Jam, open the seat of her walker, take out her tambourine and play along.  She also once stunned the group when, with Jeff's encouragement, she sang "Somewhere Over the Rainbow" as Jeff accompanied her on guitar. It was a moment when the Divinity touched each one of us, and I believe it was Jeff's musical talent, intuition and soul that helped the moment to happen.  Jeff has a tremendous talent of bringing people together.

We do not use musical instruments on Shabbat, but he was able to create a similar feeling on Shabbat.  I particularly recall a Shabbat/Rosh Chodesh where he and his musical partner and spouse, Deborah Strauss, had us rocking in four-part harmony to the Hallel Psalms.  I know we could not have achieved that spiritual high without Jeff.
As a teacher, Jeff's passion, knowledge and ability to articulate his lessons are impressive.  We threw him in with kindergartners, and he was very successful.  In terms of Divrei Torah, Jeff was so convincing (I don't remember which Parasha), that a couple of members in the congregation decided to step up their involvement and join the Board of Directors so that they would have a bigger impact on our Jewish community!

Jeff also has a pastoral side to his personality that makes him a sensitive and compassionate listener and responder. I often noticed the ease and sincerity that he displayed to each individual, allowing them their dignity and a path for success, even when he was approached "on the fly."
Had our financial situation been different, we would have retained Jeff as a valued member of our staff and the community.   We were fortunate to have him for the year.  I highly recommend Cantor Jeff Warschauer to your community.

Please feel free to contact me with any questions.

Very Truly Yours,

Rabbi Carolyn Braun
Temple Beth El, Portland, Maine

Congregants Write About Cantor Jeff Warschauer
"We thoroughly enjoy the spirit and spirituality that you bring to our congregation through your music and singing at our services. Your musical talents, and your efforts to make the music accessible to all who are in attendance are very much appreciated. Our Shabbat afternoon jam sessions are joyous events, with you leading us in making music. You extend our knowledge by offering many new melodies, as well as responding to requests from the group for their favorite selections and styles of music."- S.W.

"Your contributions to our services are outstanding, and we thank you most strongly for the wonderful experiences we have under your cantorial leadership. We have found your versatility in bringing new melodies to Congregation Beth El, and your ability to cheerfully adapt to any type of congregants' musical wishes, most impressive. We feel emotionally uplifted during the services you lead, and believe that is due in large part to your special ability not only to put prayers in spiritually moving context, but perhaps most significantly to provide congregants with the motivation and capability to participate. Your talents in all aspects of cantorial responsibilities are unique and extraordinary, and it is our great good fortune to have them at our synagogue on Shabbat." R.W.

"I find Jeff to be very energetic and enthusiastic about teaching new melodies to many of our traditional prayers. He is the type of person who would attract a new young membership. He truly livens things up, and is very personable as well." S.G.

"Jeff has an engaging manner that brings the congregation along, never performing, rather, engaging them. 'Join in' is his message, without any implication that it matters how well one sings." H.S.

"I have LOVED the Friday services with Jeff. If I had my choice, every service that I ever attended would be like that. My heart sings at these services. I like the way Jeff encourages all people to sing, I like his knowledge of Yiddish, I like the way he conducts the jam sessions. He is warm, heimish and welcoming." E. L.

"Jeff Warschauer's approach to liturgical music is one of participation and he has a wealth of melodies that are not beyond people's capabilities. I greatly appreciate everyone singing as a community rather than being sung to at a performance. Music wonderfully enhances prayer, especially Kabbalat Shabbat. The jam sessions are great fun as well." B.L.

"Jeff has a huge background in music. He is not a novice in the music world. He cares about what he is doing and is very enthusiastic." D. S.
Contact
jeff [ at ] cantorjeff [ dot ] com
(347) 623-4228
657 Warren St, #1A
Brooklyn NY 11217